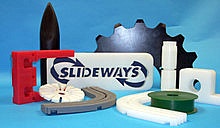 While we might be better known for our standard high-quality, precision plastic molding and machined plastic parts for a wide range of industries and applications, we also provide quality custom plastic assemblies.
At Slideways, we provide full-service plastic fabrication and assembly service. Whether you need a simple plastic component assembly or a critical multi-part, tight tolerance plastic assembly, we can help. Our complete, in-house service will save you time, money, and headaches with one-stop manufacturing, assembly, and packaging processes – all with one supplier.
Our custom plastic assembly services include:
Engineering & Design We'll review materials and even customize standard components to maximize the effectiveness of your custom plastic assembly. Whether we're using sophisticated 3D modeling technology or a napkin drawing you've provided, our experienced engineers are committed to creating the most reliable and efficient custom plastic assemblies to meet your requirements.
Precision Machining Our highly-skilled CAD/CAM programmers and machinists use state-of-the-art CNC equipment and a versatile production line to cost-effectively provide you with everything from unique, one-off assemblies to high-volume long runs.
Standard Parts System Quality parts manufactured from new tooling are always in stock and available to you at our east and west coast facilities, including conveyor chains, belts, sprockets, bearing mounted units and guide rail and adjusting components.
Pre- and Post-Build Support & Service Custom plastic assemblies are only as good as the service and support that backs them up. We provide complete pre-planning and review of mating parts to assure fit and functionality. We'll even provide field measurements and templates, along with fasteners and instructions, if needed. It's all backed by our delivery assurance communication process and live customer-support line for any questions you might have or assistance you might need.
By using Slideways for your complete plastic fabrication and custom assembly needs, we make it easy for you to complete your products more quickly, get to market with them faster, all while minimizing cost and process complexity. You benefit from:
Faster time to market
Fewer suppliers to manage and coordinate
Fewer part numbers
ISO 9001-2008 certification
Lower overall component and assembly costs
Streamlined production and minimal in-house resource drain with outsourced assembly
For high-quality custom plastic assemblies, contact the experts at Slideways today.